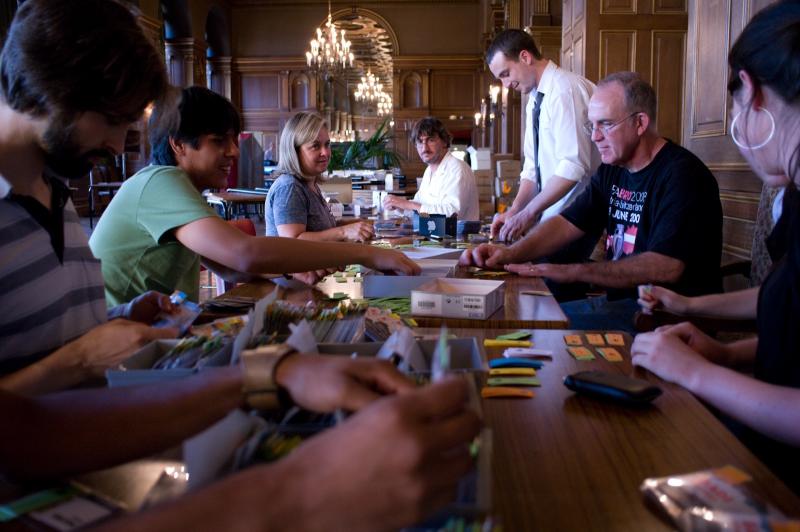 M1PR MediaFirst PR & Marketing Project Teams & Bios
Project team members are Becky, Christine, James, Jim, Justin, Lisa, Luiz, Manuel, Oliver, Paul, and Scott.
MediaFirst believes in forming small effective teams with accountability for results.
Be famous. Join the people who use MediaFirst to earn interviews from the media every day.
PR Team Members & Structure
A typical team for a PR program (a client on retainer) would include a team lead, who pitches to reporters and manages editorial calendars. Such a group might consist of Becky (team lead), a writer (Lisa, Christine, or Jim), and a social media researcher (Justin).
Marketing & Web Team Members
A marketing project, such as research, web, SEO, or advertising would have a team lead, who might be the project manager (PM) or the subject matter expert (SME) from MediaFirst. We have an SME for each of the research (Jim), Web (Luiz), SEO (Scott), and advertising (Manuel).
Senior Staff:
Becky Boyd, VP, Marketing Services, Logistics PR Counsel
Becky brings years of experience in software, information technology (IT), supply chain, and consumer PR. She is responsible for developing and implementing tactical programs for clients.
Her teams are experts in media relations, award opportunity management, speaking engagement management, industry analyst relations, social media management, and writing press releases, blogging, case studies, and white papers. Becky brings extensive experience writing about how clients address their customer's issues and create business value.
Hewlett-Packard: President's Club Award Recipient
At HP, Becky earned distinction as one of the top 100 sales representatives, worldwide and consistently ranked as the number one sales representative in the HP Southern Sales Region.
In this role, she demonstrated exceptional customer service, generated award-winning campaigns, established HP in new markets, and served as a mentor to other HP employees and clients.
Her responsibilities included defining markets, competitive analysis, implementing marketing programs, alliance partner programs, lead generation campaigns, sales training, email campaigns, advertising, trade shows, user conferences, and sales enablement, such as producing marketing collaterals, creating a prospect database, and developing sales presentations.
Becky's longest tenure was with HP, where she sold technical solutions to companies in engineering manufacturing, industrial process control, and universities. She worked with independent software vendors (ISV), HP's alliance partners, giving them access to leverage HP resources.
In addition to HP, Becky has worked at an e-commerce software start-up, and a national distributor (reseller).
Becky graduated from the University of Tennessee, Knoxville with a degree in Engineering Science and Mechanics, majoring in Biomedical Engineering.
Jim Caruso, CEO / Strategist, Logistics PR Strategist
Jim Caruso keeps the alignment of our agency tasks with the client's strategic intent.
Internally, his concerns are corporate and client strategy, process, execution, and quality. He is responsible for all operations plus finance, legal, sales, purchasing, and IT.
Our clients benefit from his expertise in logistics, software, telecoms, and technology.
Positioning Technology & Business
His years of business experience and sales across five continents enables Jim to help reporters develop stories about how technology trends and new offerings affect business.
He is an expert in positioning business solutions in the right industry niche and understands the many industry issues, such as new market entrants, natural disasters, cyber attacks, and governmental regulation.
Helping Reporters & Editors
Jim helps clients receive earned media coverage in Investor's Business Daily, The Wall Street Journal, The Financial Times, Forbes, Fortune, Bloomberg, The Boston Globe, The NY Times, Wired, and national newspapers. He helps reporters and editors create great stories.
Speaker & Technology Evangelist
Jim's speaking experience helps him address technological change, the basis of competition in an industry, and how clients' technologies create a competitive advantage for their customers,
Jim has global experience speaking to audiences of small groups to groups of more than 1000.
Examples include boards of directors, regional tech or marketing events, and global conferences from New York to New Delhi and Madrid to Sydney.
Jim gave technology and business briefings to technical managers, executive decision-makers, and boards of directors in Beijing, Delhi, London, Madrid, New York, Rio De Janeiro, Singapore, Sydney, and closer to home.
Global Experience & Perspective
His previous experiences include local, national, and global sales and sales management.
He developed the strategy and tactics to sell to and partner with global telecoms, investors, equipment manufacturers, and system integration vendors.
Jim also managed business development for new products, emerging markets, and new markets, such as China, India, Australia, and Thailand. He created sales channels through alliance partners and the headquarters of global firms in Asia, Europe, and North America.
Techie with Heart
He served on the board of trustees for M1PR, Inc.; High Meadows School; WirelessVertical.com, Inc.; Career & Education Information Center; Metro Industries; and the Bluegrass Association for Retarded Citizens (and Growing Together Preschool).
For many years, he has supported the Father Christmas Cup, an annual fundraiser for soccer families that lost a parent.
Engineer & Entrepreneur
Jim serves as chair of the corporation's board of directors and as chief executive officer (CEO). He is the corporation's founder.
Jim graduated from Case Western Reserve University with a bachelor's degree in Engineering.