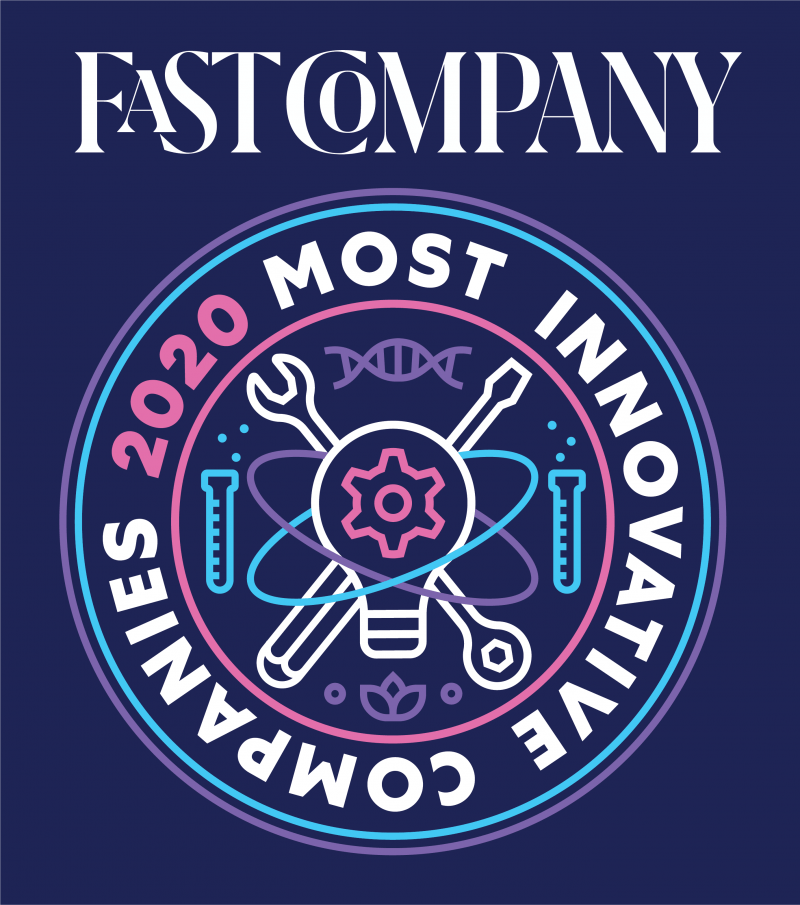 Public Relations, Marketing, and Social Media | Careers
Public Relations Careers
Inquire About Flexible, Rewarding Careers For Technology Business Evangelists
Know Thyself: Before you call or e-mail, make sure our Business, Software, Technology, and Logistics PR focus matches yours
Thank you for inquiring about careers at Media First PR - Atlanta. Our main office is in the Atlanta suburb of Roswell, Georgia. Roswell is located about thirty miles north of the downtown and along the Georgia 400 (GA-400) technology corridor. The firm maintains other offices, is flexible about location, and the staff enjoys co-working around town. The company routinely works with clients from Asia to Europe, and across North America.
Our Client Wins A Fast Company Most Innovative Company 2020 Award (Image Above)
If you are new to Atlanta, we suggest attending or video conferencing local technology, marketing, or logistics events. Check out these organizations: the Technology Association of Georgia (TAG), the Georgia Center for Advanced Telecommunications Technology (GCATT), Atlanta Interactive Marketing Association (AiMA), the Advanced Technology Development Center (ATDC), or Social Media Club of Atlanta. Also, many startup incubators and co-working spaces, such as Switchyards and Strongbox West, may post-COVID, host events around the city. There are numerous tech events posted on MeetUp and held all around the city. Events give you a perspective on the local business, start-up, marketing, and technology communities.
Find What You Are Good At & What You Love To Do
Evaluate the environment in which you enjoy working and the types of industries, technologies, and clients. Assess the work and specific tasks that you enjoy. Search your strengths to match the tasks you enjoy with those at which you excel.
Richard Nelson Bolles wrote several excellent books, especially "What Color Is Your Parachute," that helps you assess your ideal career. Look for a recent edition.
MediaFirst careers focus primarily on business-to-business (B2B) promotion of technology solutions.
Quality Is Conformance To Expectations
Our clients typically want to reach audiences of prospects, customers, prospective and current employees, analysts, industry associations, alliance partners, and sources of funding or buyout (exit). We promote firms to consumer audiences, especially when there is a technology angle. Broadly, we cover telecommunications, the Internet, information technology (IT), and supply chain; whether equipment, software, or services.
The technology focus means that clients expect us to have or develop a clear understanding of their business, markets, and competitive landscape. We understand our clients' customers in order to write in words that resonate with the target audience.
MediaFirst's flexibility supports dedicated, effective professionals. We believe that careers are more than just jobs.
Today's employment climate requires that employers and employees respect mutual goals and needs. If in your job search, you seek a flexible opportunity, we offer flexibility to reliable employees and contractors, such as the freedom to telecommute. We pragmatically focus on results, in ways similar to the technique known as Results Only Work Environment (ROWE). The business culture reflects our effort to best balance the needs of the client with those of employees or contractors, within a unique, virtual company model. Meeting client demands is expected, but considerable personal or family flexibility may be available.
Example of possible openings, most would be a contractor position:
Updated 28 July 2021: 
Assignment Editor: we are considering hiring an assignment editor to handle and balance the writing workload among employees and contractors. This person would be responsible to handle the editing of written work produced in-house before we deliver it to a client. The assignment editor might employ their favorite technology tool to create content calendars. This may require tracking delivery and acceptance by the client and invoices to the client based on the content delivered. We are tracking content from ideation to delivery and posting. 
Social Media Evangelist with project implementation and budget responsibility. Typical projects involve creating the proper presence and raising awareness of clients via a combination of LinkedIn, LinkedIn Groups, Facebook, Facebook Pages (for a company), Twitter, or Instagram. We do content curation using search and software tools. We post or the client might, using Hootsuite, Buffer App, HubSpot, Oktopost, or other tools.
PR Researcher would be responsible for researching and compiling Editorial Calendars (seasonal). Also, responsible to find Reporters covering specific beats and making database updates.
Writing opportunity, depending upon qualifications and an ability to write about technology, software, or optimization in logistics, construction, telecommunications, manufacturing, or our business.
Contractor positions: we may have or seek contractors to help with certain tasks, such as graphic design, website building, or web hosting.

Interns: we regularly have an intern (contractor position) working on a team
Bookkeeper with experience in the professional services industry

Social AI Intern: this person would test new software tools that enable content curation for social media
Content Optimization Intern: this person would use new AI software tools to optimize content for the agency and clients.
Video content intern: this role would test AI software for video generation
Agency applications intern: not defined, but this person might work on Twilio, Airtable, or test digital asset management (DAM) software.
Principals and Alliance Partners
The firm is interested in discussing affiliation with professionals that can successfully manage daily client relationships and workloads with the help of headquarters support for sales, contracts, billing, editing, and back-office support. These are team efforts within a virtual company model.
Connect Via Email or Call about Career & Alliance Inquiries
Please e-mail your resume and writing sample to "jim" [at] "mediafirst" [dot] "net" or call Jim Caruso at (M) 404.788.0188.