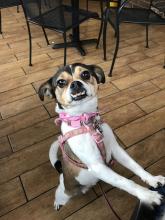 Cissie
Age: 6 years
Sex: Female
Weight: 14 pounds
Breed: Mutt, maybe some Jack Russell
PERSONALITY
Cissie wants to please as long as she is not napping. She is ready to go on an adventure at a moment's notice. However, if napping, best to leave her alone; the "let sleeping dogs lie" advice applies here.
When out, she is unperturbed by people or pets. This makes her a great companion.
Her friends, Ollie and especially Marti, bark at every shifting wind, new face, or pup.
Without them around, Cissie is a joy; with them, they all bark too much
HEALTH & GROOMING
Crooked adorable teeth.
Healthy. A little knock-kneed. Clean. Sheds a little.
ABOUT THE OWNER
Jim runs a tight ship with the guidance of his four-legged Personal Assistants (PAs), Cissie, Mart, and Ollie.
He enjoys walks, cooking, beers, whiskeys, and pet-friendly restaurants.