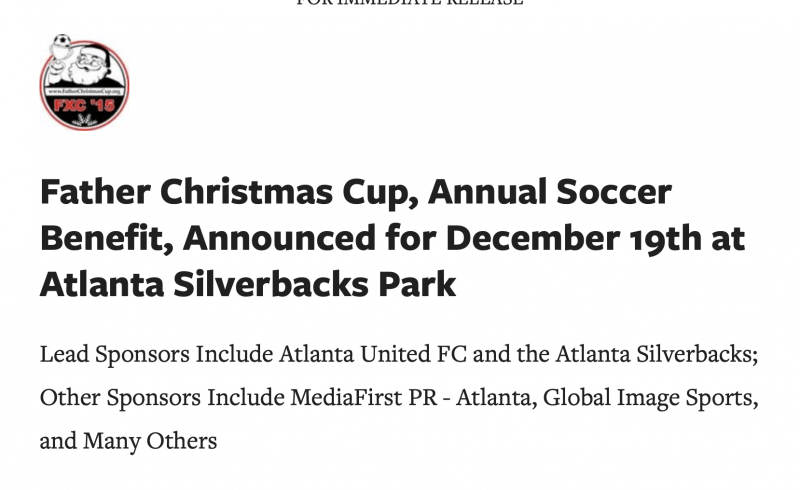 Sports Marketing Agency | Sports PR Agency
Sports Marketing Firm
Sports PR Company
Pro-Bono Event
Father Christmas Cup (FXCup.org), Held Annually in Early December at Atlanta Silverback Park We end each year with a charity initiative run by friends we played soccer with and against for years, The Father Christmas Cup. We are proud to be among the many sponsors, organizers, and players at the FX Cup. On behalf of the FX Cup, we had coordinated with the organization's sponsors, including Atlanta United FC and Fadó Irish Pub, for expanded publicity and social media outreach for the event.
Promotional Sports Attire: Soccer Kit, Soccer Jersey
We developed a number of soccer kit and soccer jersey concepts, designed them, and received client approvals. Clients were pleased with the look and durability of the gear.
We did this work for a number of local companies including Mac McGee Irish Pub, Rovers FC, Hove International, Peachtree Flooring, Panorama Press, Polymer Partners, AtlantaSoccer.News, and us, MediaFirst PR - Atlanta (our corporate name is M1PR, Inc.).
Soccer Community Building & Business Networking
Coach's website, press releases, website, hosting, and C.V.

Father Christmas Cup: FXCup Facebook presence and FX Cup press releases, including one announcing the sponsorship and participation of Atlanta United FC and Fado Irish Pub.

Rovers F.C. - 8 adult teams in Cobb and Roswell. We created a website and helped administer the Facebook presence for the club.

Arts - Soccer fundraiser tbd.

Las Vegas Dustdevils indoor Indoor Pro Soccer Team LVDustdevils.com (re-starting up soon). We developed a prototype website as they sought a new, local franchise. We continue to operate their Facebook page as they plan a reunion.

F.C. Georgia United: we built a website, wrote press releases, and helped with publicity. FC Georgia United press release, domain name, website, hosting, fundraiser blog post, and launch help.

Helped launch a soccer camp held on the Oglethorpe University campus, Future Stars Soccer Camp, plus helped with travel, teams, events, and camps.

Co-manage LinkedIn group "Atlanta Soccer Friends."

School of Kai at SchoolOfKai.com, website and promotional help for fitness and gymnastics training website.
Domain Names, Websites, Hosting, Content Management, Press Releases & Launched Businesses
Clients, Coach Jon Akin and Coach Gilbert Jean-Baptiste, launched Future Stars Soccer Academy, a summer day camp and summer overnight soccer camp. We helped secure a domain name, website hosting, website content, press release announcement, and helped at the launch of the camp.

Client, Coach Iggy Moleka, asked us to help launch a soccer club. We acquired the domain name ATLsoccer.com, provided website hosting, and built the initial website.

Acquired the domain name 442mgt.com and hosting for a local soccer agent.