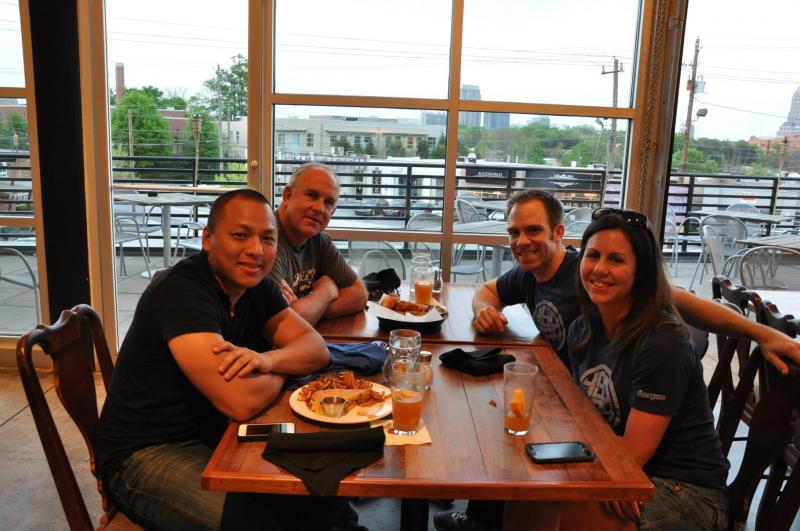 Foursquare Day and Foursquare Day Atlanta at 5 Seasons - "#4SQDAY"
What is Foursquare?
Foursquare is a social network that lets you "check-in" to places you visit and can also post to Twitter and Facebook, identifying friends that are also checked-in with you. It is among the Location Based Services (LBS) that use the GPS (Global Positioning System) capabilities of smartphones to connect friends and introduce the like-minded, social media obsessed.
What is Foursquare Day?
Foursquare Day (4sqday.com) happens to the 4th month and the "4 squared" day, the 16th.
It is a global celebration and checking-in anywhere on Foursquare Day wins you the 4SQDAY Badge from the company Foursquare.
Foursquare Day is abbreviated 4SQDAY and uses the hashtag on Twitter of #4SQDAY.
Hundreds of meetups are planned worldwide for Foursquare Day.
In Atlanta, we got to celebrate in the fine weather; listen to a great band, Secondhand Swagger; and sit outside on the top deck at the brewpub.
Chad Elkins, the founder of 4SqATL, Foursquare Atlanta, was our host for the party.
There is a Facebook page for Foursquare Day.
We are not sure what happened to our local Foursquare event, but we hope they return, maybe as Swarm Days?