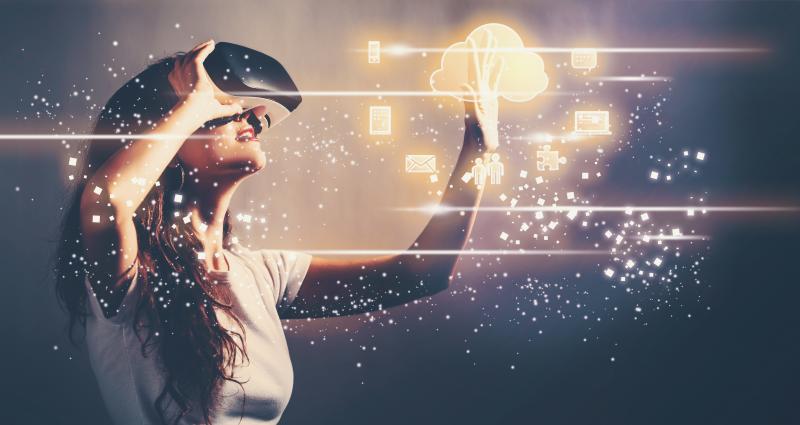 Video Conferencing Tips & Applications for the COVID-19 Lockdown and Beyond
Revised frequently
2022 Update
I have a couple of products I recommend.
The first is the mmhmm app - and yes mmhmm is the name. With mmhmm, you can have multiple background images, slide decks, and video overlays that you can add to most of the video conferencing software options I list, below.
The second is Stream Deck from Elgato.
Recently, I wrote a blog post on live streaming.
Online Events After COVID-19
Since March 2020, events went completely virtual to avoid infection. Since then, there is a flurry of re-engineering and repositioning of event companies and event software to play will with online meetings and online conferencing software. These software packages often powered 1-to-1 sales demonstrations and webinars, but the feature competition is now fierce. Many software packages could integrate with CRM, marketing automation, and other components of a marketing technology stack, but now they all must integrate and smoothly. Expect to see more functionality and integration that tracks prospective customers through virtual events.
Event management applications, like EventGeek, did a pivot. For EventGeek, they became Circa (circa.io), integrating with Salesforce and Marketo, and videoconference applications Zoom and On24.
To put the growth of online meetings in context, the World Economic Forum quoted the Zoom blog, which states, ... 
"To put this growth in context, as of the end of December last year, the maximum number of daily meeting participants, both free and paid, conducted on Zoom was approximately 10 million. In March this year, we reached more than 200 million daily meeting participants, both free and paid." 
Screen Sharing Apps, Video Chat Apps, and Online Presentation Apps
Although video conferencing applications have been around for a long time and are fairly stable and established, there is plenty of room in the market for better applications. Although the photo depicts a VR headset, virtual reality applications have not taken off, such as in videoconferencing.
Caution: Know that the video, audio, and chat (text) log of these video calls might be stored permanently and distributed to persons not on the call. Determine what that means for you and act appropriately.

The Electronic Frontier Foundation is a good resource, visit their recommendations on privacy
Also, the global COVID-19 virus outbreak (a Coronavirus) has the staff from many industries in a "Work From Home" (WFH) mode. In order to maintain a connection with teammates in a city or across the planet, they are using video conferencing tools. For companies that were already remote (or virtual or distributed), the use of videoconferencing and collaboration tools is not new.
One online meeting tool company, Lucid Meetings, also has expert advice, so I've highlighted a post on 5 tips, which is really 5 x 12 = 60 tips. Top 5 Tips for Smarter Meetings (Times 12!)
Online Sales & Marketing: Chat, Videoconferencing & Presentation
Before the virus hit, many sales teams had a suite of marketing tools to enable immediate connection with prospective customers. These tools include a chatbot on a website connected to a calendaring tool for appointment self-scheduling with the aim of a 1:1 (one-to-one) video conference or demonstration to inform and sell. 
Video Teleconference Applications
These video conferencing applications enable collaboration needs by allowing calls via audio or video call. Some have tools for presentations, screen sharing, or drawing on a virtual whiteboard. These are conference calling and web meeting apps. Here is my latest list of applications for video conferencing:
Clearly, with Amazon's lead in cloud computing with Amazon Web Services, the existence of AWS-powered applications is a given. I like this because it is lightweight; it does not require a download and code on your machine to run. This makes your computer more secure.
Around is a new video call and video conferencing app. It claims AI for camera framing and AI to eliminate background noise. It has auto-mute for background distractions, claims no echo, and handles up to 15 connections (calls) right now. It integrates with Slack to permit launching from inside Slack. I found this on Product Hunt.
BigMarker says it is the #1 video platform for webinars, summits, and virtual conferences. It is browser-based, requiring no software download, a plus in my book. Also, you can do demos or hold classes online. I noticed the Wall Street Journal WSJ+ was using Bigmarker for an Auto Industry event.
https://www.bizzabo.com/
BlueJeans is a conferencing app that offers video calls, screen-sharing, and live streaming. It does not require you to install any app to join; you can connect from a web browser. I was on a call recently where a vendor used BlueJeans for what ended up being a voice call and I was satisfied with voice quality and connection.
Butter.us  | Workshops as smooth as butter
Cisco Webex Meetings is video conferencing software with a collaborative whiteboard while seeing everyone's face in the video call. There is a bundled Webex Work offering for small businesses, priced monthly by the number of users. They have several, work-from-home (WFH) technology solutions, such as access points, network routing, a virtual private network (VPN), and information security.
This seems for recording and sharing rather than real-time video-conferencing.
Cvent offers event management solutions for a Marketer, Planner, Trade Show Manager, Above Property Hotelier, At Property Hotelier, Convention & Visitors Bureaus (CVB), and Destination Marketing Organizations (DMO) executives and sales.
A no-download webinar experience for your audience with the marketing tools you need. Lead gen, onboarding, etc. Integrations with Email Service Provider (ESP) platforms and via Zapier.
Facebook is launching a "Messenger Rooms" offering with group calls for up to 50 participants and no time limit according to VentureBeat.
Gather has a game-like two dimensional space with video conferencing. It hosted weddings, arcades, immersive theaters, and hackathons!
Google Meet and Google Hangouts are part of Google Workspace (formerly G Suite) business applications that begin with Gmail. Your Google Workspace administrator can turn on or off the ability to create a Hangout automatically when you create a meeting invite with Google Calendar within Google Workspace.
GoToMeeting.com is part of LogMeIn I have to admit that I dislike apps that require a software download to run. In addition, this company makes LogMeIn which can take control of your computer for remote support, but I see this as an information security issue.
Grain.co | Record, clip, transcribe, share Zoom video call highlights
Global online platform. They held DrupalCon Global on hopin.to with thousands of attendees and multiple tracks. https://hopin.to/
At this update in October 2020, I've seen several events managed through Hopin. One of my favorite technology news organizations, The Information, says:
"Hopin valuation is as high as $2 billion. In June, investors valued the startup at around $350 million. Demand has surged during pandemic"
Houseparty | Face to Face Social Network
Houseparty is gone; it was "discontinued." Friends recommended Houseparty. They used it to connect with other friends remotely https://houseparty.com/ Ironically, my friend ended up in a photo while on Houseparty that showed up in this article at the Washington Post: https://www.washingtonpost.com/technology/2020/03/17/video-happy-hour-coronavirus-st-patricks-day/
Hoot Meetings is a client-free service that does not require a download, which makes it even easier to host and join video meetings. Next-generation, video-first online meeting tool. HD video, secure, easy, Outlook, mobile, no download, etc.
Secure, flexible, and free video conferencing. Jitsi Meet is the name of the video conferencing tool.
Video chat with the whole team
Fully encrypted
100% Open Source
Share your desktop, presentations, and more
Invite users to a conference via a simple, custom URL
Edit documents together using Etherpad
Pick fun meeting URLs for every meeting
Trade messages and emojis while you video conference, with integrated chat
Use Jitsi all day for free—with no account needed
This is another lightweight app that makes it easy to log in with a link or just the name of the presenter (or company). However, it is also part of the  LogMeIn family of conferencing products but appears to have less of a security issue for the conference viewer/participant.
Video communication for any context https://livestorm.co/
Join and run webinars without downloading software. Embed into your website. Features screen sharing, live streaming, and recording, plus branding, social media broadcasting, and audience analytics.
Loom.com does not really belong here because it is a one-to-one video messaging application, not a one-to-many app for live or recorded video. I get more of these messages every week. It creates a more personal connection than a voice message. These let you present information, too.
Lucid Meetings offers a platform plus training and consulting to encourage better results (outcomes)/ https://www.lucidmeetings.com/
Marketing with webinars. Live and on-demand webinars for lead generation.
Restream.io allows you to stream live to 30+ social platforms at once. 
Hundreds can be on a call at once. It includes screen sharing and a whiteboard with annotation tools.
As online meetings and events replace large conferences, there need to be tools to handle the virtual conference registration and execution with tools like an event app. Socio enables building tools, such as an app and integrating with some other software tools. They say "Where Virtual, Hybrid, and In-Person Events Become One | Your end-to-end platform for streaming, engagement, sponsorship and networking."
https://www.screenleap.com
https://slackhq.com/
Starleaf has web conferencing, audio and video calls, and team chat that is like a group text.
A complete event & community platform for virtual and hybrid events. They added the registration platform Avolio.
Telegram intends to add a video call feature soon according to TechTimes.
Present to up to 5000 people with up to six presenters. Watch on any device or screen size. Run chats or Q&As in real-time. Automatic video recording including capture of chat comments as though live. Schedule events and the availability of recordings. Integrations? Analytics. The parent company also owns EverWebinar and Karta (e-commerce).
They say, "No logins, no downloads, no fuss." Whereby (earlier Videonor) started by telecom veterans of Telenor in the small coastal town of Måløy on the most rugged Western point of Norway, with 2000 inhabitants. Web registration builder, email and text messages, and live offers. Polls, surveys, drawing board, and handouts.
Virtual events, webinars, and webcasts. They say, "Virtual events are large, multi-session events or conferences hosted online. Webcasts are online video streams of a single event or conference viewed by registered attendees. Webinars are online events that allow your registered audience to engage with content and presenters through a webinar hosting platform."
https://zoom.us Wow, with half the planet at home because of COVID-19 (Coronavirus), mentions of Zoom have taken off. Zoom has screen sharing and prefers that you download software. Now It does run in a web browser, but I'm not sure you can initiate the conference from a browser. I've joined from a browser and been limited in what I can do, such as use a background image. Canva, an online design tool, has several free, funny, and serious background images for use with Zoom.
Audiovisual (AV) Advice, Behavior For Videoconferencing
During the Covid-19 pandemic, there are many business and personal videoconferences with customers, prospects, colleagues, prospective employees, friends, and family. These may be 1:1: or very large groups. Many businesses and non-profits are also broadcasting helpful seminars as webinars to keep in touch with customers, prospects, allies, and staff.
Better videoconferences for the attendees start by you considering the following tips:
Test your gear before the event: software, mic, camera, and speakers. Keep software updated.
Online gamers often use headphones with a boom microphone. Gamers use them because they work well, facilitating speaking and hearing.
Mute your microphone when you are not talking or presenting.
Have sufficient lighting from in front of the person speaking.
Pick a non-distracting background. A solid background can be good. I like a dark blue night sky.
Avoid backlighting. It fools the video camera and ruins the picture. Avoid harsh bright lighting or side lighting that casts shadows.
Some videoconferencing tools let you have a virtual background, even without a green screen. If not distracting, these can hide any clutter in your office. Backgrounds should not distract. Note that if the background goes away, people can see everything. Assume, they already see everything.
Wear appropriate clothing. The joke about not having to wear pants is over-done.
Position the camera as if you were a movie director. I like it slightly below the center.
Avoid moving your camera. Don't jiggle your laptop on your lap or walk around with a laptop or mobile phone bouncing.
Be a news anchor or movie star. Sit up straight, sit still, and face the camera.
Look at the camera, not your dog, your phone, or images on your screen.
Pay attention or leave. Yes, meetings can bore, so choose, but be polite, too.
As an organizer, publish an agenda and select a meeting leader. End on time.
Do you even need a meeting? Grammarly weighs in.
Be on time. In small meetings, being late is obvious and possibly rude to everyone.
Turn on your camera; include yourself in the meeting. I may turn mine off if there is only one presenter to avoid being a distraction.
Even if the pizza is the perfect temperature, do not eat on-camera. Loud, crunchy chips make a statement you want to avoid.
Enable everyone to contribute; this may mean learning to interrupt politely, being aware that attendees unmuted, or watching for raised hands on-screen or as a button in the conferencing application.
Pick the quiet spot to attend the online event. Close the door or all the doors. Turn off fans, heaters, or any noisy device. Remove people or pets that do not belong in the meeting. Turn off notifications and phone ringers.
Tell everyone you are On-Air!
I've collected these tips from many sources, but a May 2020 newsletter from the Vermont Apple Computer Sales Specialists at Small Dog Electronics had the best list I've seen. There are lots of excellent sources of virtual meeting tips, from the Krisp app blog to the Harvard Business Review (HBR).
More Guidance On Video Conferencing Apps
These video apps let you take audio-only. Just dial-in and take a long walk in the beautiful countryside.
One of my favorite sources on app advice is the Zapier blog: Zapier Blog: Blog Home The 12 Best Video Conferencing Apps for Teams
https://zapier.com
Another source of video conferencing software, especially new offerings, is Product Hunt.
https://www.producthunt.com
Lucid Meetings has lots of meeting advice on its website. One tip I derived from a presentation is to let attendees post a link from a panel discussion or presentation to their own blog post with related tips.
Docket claims to make meetings better: Better prep, better focus, better follow-ups.. https://www.dockethq.com/
Background Noise Suppression App
The Krisp App mutes background noise on a call or video conference using software downloaded to your machine. Right now it only supports Apple Mac OS X. This is a helper app for your voice or video call application from any developer. https://krisp.ai/
Real-Time Transcription of Videoconferences
Otter.ai is one of many transcription tools that may be used in real-time, capturing the audio running through your computer. Otter just released an integration with Zoom to capture the audio and read the transcription in Zoom. It requires a pro-level Zoom or Otter.ai account.
Information Security and Video Conferencing Applications
I don't like apps that let another person take over your computer; this is an information security (infosec) issue. Therefore, I don't do LogMeIn or remote desktop applications. If you really force me to, I have allowed this on a spare machine with me watching the process and then wipe the disk clean and reinstall the OS).
There are many recent examples of online attendees sharing offensive images. If you are the organizer, make sure you understand whether attendees can share without your approval.
Lastly, Zoom had used a software development kit (SDK) from Facebook in building its IOS (Apple iPhone) application. As a result, Zoom passed data about Zoom users to Facebook without any notice or user approval. Although Zoom removed this in late March 2020, it is an example of privacy and infosec issues in these apps.
In response, Zoom said, "Zoom takes its users' privacy extremely seriously. We originally implemented the 'Login with Facebook' feature using the Facebook SDK in order to provide our users with another convenient way to access our platform. However, we learned Facebook SDK was collecting unnecessary device data."
This brings up the point that maybe you should not use "Login with Facebook" if you don't want to be tracked by them.
Are Online Meetings the Enemies of Airlines?
Airline CEOs believe Zoom is so bad business travel ultimately will increase.
Here are some icebreaker ideas for your meeting from Miro.com